January
So no, January did not slow down after the holiday and leave plenty of time for relaxing and long Sunday afternoons for blogging and sipping coffee. That must have been in one of my dreams from my early twenties when I had all the time in the world and wishing I knew what I know now. Fast forwarding to 35 and life couldn't be busier and definitely could not have imagined it could ever be this rewarding and overwhelming all in one lifestyle.
I must admit, I am looking to a fresh start. I can say 2011 exposed me in a way that makes me more aware of so many things. I'm not sure if it is the combination of choices I make or my genetic makeup but I will say...being a Mom, Wife, Daughter, Sister, Aunt, Neighbor Friend, Career Warrior, Blogger, Blog Reader, Traveler, Pen Pal, Volunteer, Decorator, Memory Archiver, Recycler, Gardener, Facebooker....has overwhelmed me just a tad:) OK, so maybe I can chalk it up to the choices or just give it a better sense of priority this year. Either way I am sure you have heard the term..."Something's Gotta Give"...well it also happens to be a movie I really love with Diane Keaton. I adore almost anything she does but that's for another time.
The movie is all about how she has her life figured out and sort of "in control" and then this man (Jack Nichelson) comes along and throws her all "out of control" for all the right reason. I sort of feel that is how my life has changed. Having a child certainly does just that creating "controlled chaos" on your best days and for all the right reasons.....

The Magician, The Cheerleader, The Chef, The Fashion Model, The Baller
Harper's little moments.....
As I read her books to her, I catch Harper staring at my face out of the corner of my eye. She says, "what are dose?" She pointed to my freckles and so I tell her what they are!
She looks at me and says, "Frankles?"...."I like you Frankles!"
She woke up last Monday and asked to wear her big girl underwear to school and has not taken them off! She has done amazing, takes herself to the bathroom going Number 1 and Number 2..along with that letting you know she needs her "privacy". This kids shuts the door and goes to potty all on her own....sometimes taking 10-15 minutes to go. But she goes...weehoo!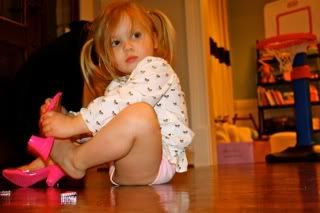 Skyping with the family. Harper is a moving target when it comes to Skyping.... We are usually Skying at night and which could be one of the hardest times but we do it anyway. Amazing the relationship she has with her family probably because we stay so connected on Skype!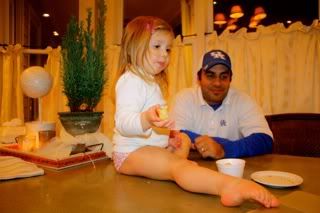 Do you love the undies or the shoes the best??
Harper and bedtime
Yeah yeah, we have a child sleeping in her bed throughout the night since last Friday and one happy doggy snuggling beside her! For some reason, she was getting up so much we had to ask Doc Mukundan what are the options for sleep. He suggested Moss sleep with her and what a gift. We have sleep!
Miss Independant
Harper has taken it upon herself to go into the bathroom at night and start her own bath. This little spit fire is a natural born leader and likes teaching her Mommy
At school today, I got a report that her "teacher skills" are in full effect at school and she has each kid playing and singing Harper in the Middle! This song is one of many that she sings at random and apparently she had her whole class corraled and chanting with her!
Chicago in January.....YES, it was so cold. I arrived in Chicago with the most perfect day for strolling and shopping on Michagan Ave. It was gorgeous, bright, and sunny with a light jacket.....such an amazing day to catch up with some of my work buddies! We had a full day of training and then I got to spend a couple of days with one of my dearest friends Breags!
So on to the cold part.. the day after I arrived Chicago got their first snow of the season, 8 inches. In Nashville, that would shut down the city for an entire month! I am not joking.
But not in Chicago, we watched the beautiful snow fall all day and then went out to the most precious place for Dinner and Drinks to celebrate one well awaited birthday. Breagel turned 36 but as you may have read or known, last year he had a life changing event that could have caused him not to see 36. He is getting stronger by the day and looks great. He has so many struggles and obstacles on a daily basis and still remains with this spirit like no one else probably could.
The birthday bash was perfect. The Hubbard Inn was perfect. Spending time with my friend was food for the soul.

Homemade Onion Rings... "The" Wings...... Piggies in a Blanket.....
Need I say more about the day we had for Super Bowl.
Thanks Honey! Bob worked it out for the afternoon of football and "fun food". That's what we call it when we basically pig out and starfish out!